Phone Tracker Saves Screenshots
When a user does something with the phone, the program can periodically create screenshots. The images with a display of the device will be saved in the user panel. They capture the same picture the user saw when working with the device. These files are stored in the cloud. You can access them from any device connected to the internet.
Sign Up for your free online account: enter email and any password
Download and install the screenshot taker from online account
Monitor all recorded data and android screenshots in your online account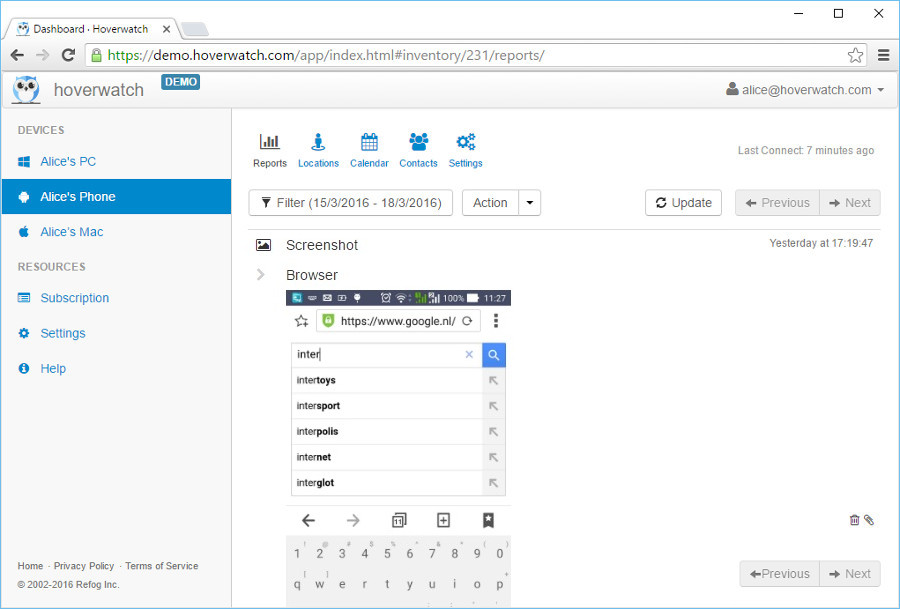 how to screenshot on android
By default, during the installation of the program, the screenshots feature is off. To activate it, you need to open your account, choose the device, and scroll down in the "Settings" menu to check the box "Periodic screenshots." Then, you need to set the time (in minutes) for the program to create the screenshots on the device. Also you can set the hidden mode on while install on your own device.
Root access to the device is required for this feature to work.
screenshot android
Screenshots are stored in the cloud for 30 days, and then they are automatically deleted.
Why is this feature useful?
Smartphones and tablets are often used for surfing the internet, checking social networks, instant messengers, and chats. The information they exchange is not always presented in the text. It can be drawings, emoticons, stickers, postcards, photos, and the like. The creation of screenshots allows you to intercept and store this information.