A simple interception of keystrokes when a person uses Facebook is not enough, as it allows intercepting only a small percentage of all the activity that goes on inside Facebook.
This is the reason why we have created a special method for intercepting all the activity that goes on while a person is using Facebook and a few other social media websites. In response to every action that a person is doing while browsing Facebook, our software creates a screenshot of the page that the person is currently viewing. The screenshot is small and takes up very little space, but it allows to find out what the person was doing, who he/she was talking to, and what did the other person write back.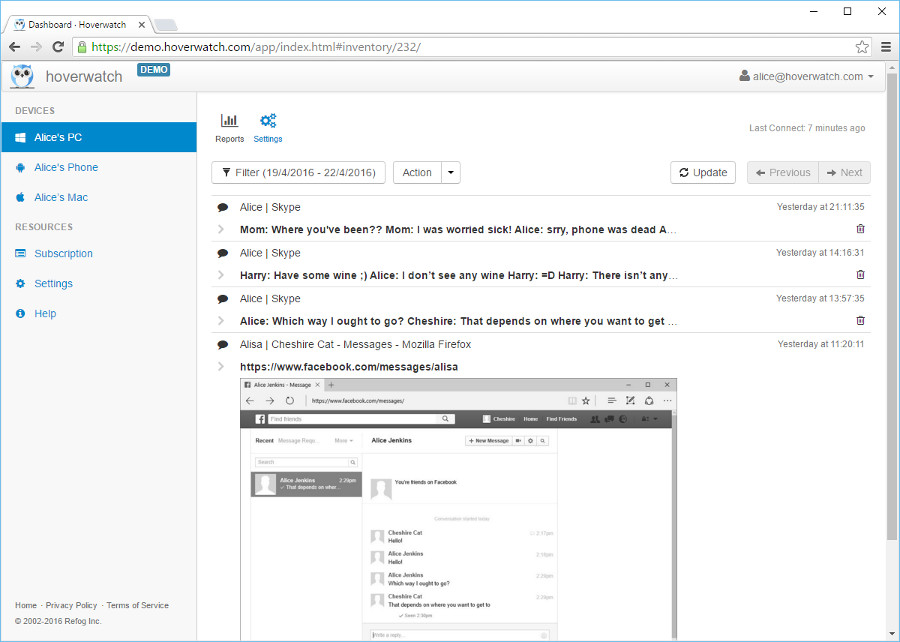 Facebook spy for windows
This method allows intercepting a discussion as a whole. The message interception function in Facebook is off by default. If you wish to turn it on, you have to select the appropriate computer in your user panel, go to the Settings menu and check the "Chat Messages" box.
Why is this feature useful?
Nowadays, social media and their messaging system is the primary method of communication among people and especially younger generation.
Monitoring the activity of the user in social media allows you to clearly understand how they are spending their time and what goes on inside their head.