Spy Apps to Track Potentially Cheating Spouses
Thanks to modern cell phones and the online services attached to them, it's never been easier to cheat on a spouse. Cheaters no longer have to spend all their time trying to coordinate when is the best time to meet with someone. There is no longer a need to dial landline numbers to find apartments and hotels to rent. All the modern cheat needs is their Android or iPhone Smartphone, a few apps, and they can easily arrange secret meetings whenever they want.
Keep in mind that there are two sides to this. While it's easier than ever to cheat on your spouse, it's also easier to track a cheating girlfriend, wife, boyfriend, or husband.
Step 1

Sign up to your free online account: enter email and a new password.

Step 2

Download and install the best phone tracker app from online account.

Step 3

Monitor all recorded data and recorded calls in your online account.
You can delete text messages and call log after talking to the other person, and save their name under an alias, but at the end of the day, you should know that your spouse can easily find a way to track your activities and find out by using spy apps.
What are Spy Apps?
Spy apps, such as Snoopza and Hoverwatch, give users the power to find information on targeted phones in real time.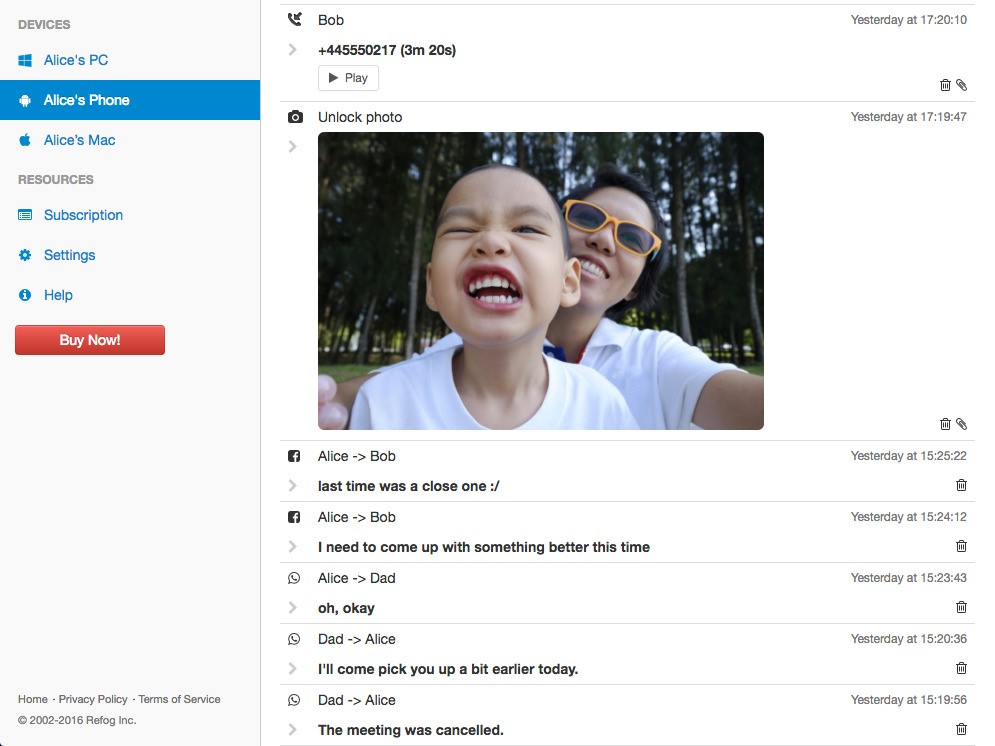 Users are able to track the call history of a phone, as well as read text messages and emails, monitor interactions on social media, see photos and videos, track browsing history, and view calendar activities while the original user is using their phone.
These are advanced spy apps that are able to track the movement of the user with the help of the GPS tracking feature. All the data is available in an online account from a simple browser. You do not have to hire a detective or be an IT specialist to be able to do all of this yourself.
Snoopza and Hoverwatch are not the only two options available on the market, but those two are the most convenient apps that can be used to catch cheating spouses.
Step 1

Sign up to your free online account: enter email and a new password.

Step 2

Download and install the best phone tracker app from online account.

Step 3

Monitor all recorded data and recorded calls in your online account.
Moreover, both of them have a special hidden mode, which is called the Stealth mode. Thanks to this feature, you can stay totally hidden. But, of course, before using such powerful solution, it's better to look at this topic more widely.
Are Spy Apps Legal and Moral?
There is one major caveat to all these spy apps that you must keep in mind. In some countries, using spy apps without the permission of the device's owner is considered an illegal invasion of privacy. The law requires that you notify the person that owns the device that you are monitoring it.
Outside of the questionable quality of spy apps, there are also moral issues to be considered.
Every relationship is built on a foundation of trust. After the trust starts to fade away, problems are created and the relationship can begin to spiral out of control. When someone attempts to rebuild their relationship after cheating, they might develop trust issues and begin to question if the partner is still spying on them. They wonder if the spy apps are still on their phone. These effects are long-lasting and can take time before they go away.
Imagine if your suspicions turn out to be wrong, but your partner has learned about your tracking. The situation can become very bad. Your activity could mean that you no longer trust your partner.
So think twice before using such tools, but, of course, sometimes, there is no other way but to use them. Sometimes, it can even save a marriage once you learn that all your suspicions were wrong and kept your activity also hidden.
How to Spy on a Cell Phone Without Touching It?
Lots of people wonder if they can spy on their spouse's cell phone without actually touching it. The majority of apps you can find online for spying have to be installed directly on the target device. So this means that you have to have a direct physical access to the target device.
Of course, the app will be invisible to the person you are spying on. Keep in mind that the target device is an Android, so you need physical access to the device in order to install the app. iPhone, after a Jailbreak procedure, has some illegal methods of spying a cell phone without touching it. However, most of these methods are unstable and unsafe.
Hoverwatch comes equipped with plenty of useful features. Not only are you able to spy on the text messages and calls of your spouse, but you are also able to spy on their contacts on social networks. What makes the app even more valuable is that you are able to track their current GPS location and their route. This will help you to quickly find your partner if they are cheating on you.
Step 1

Sign up to your free online account: enter email and a new password.

Step 2

Download and install the best phone tracker app from online account.

Step 3

Monitor all recorded data and recorded calls in your online account.
As you can tell, these apps do not allow people to spy on an Android user remotely. Don't give up just yet though, because we've got some good news for you. There are some tracking apps you can use to hack an Android device and spy on your significant other. This knowledge makes living life a bit easier, but we do not recommend that you use this method.
Hacking a phone is not technically hard, but it is very often how scammers get your money for some services you didn't use. If you see an offer to track a phone without accessing it, know that, in most cases, it's a scam and all you will get is losing your money.
What to do if your Partner is Cheating on You?
If you notice that your partner is always hiding his/her phone, taking phone calls away from you or even going outside to take calls, or regularly deletes their browser history, it may be a sign that they are cheating on you.
Keep in mind that you don't want to violate their rights and you don't want to hurt them as you use a spy app. Spy apps can promote mistrust and will prevent the relationship from recovering properly down the line. It takes a serious toll on a relationship and emotions to deal with an unfaithful partner, but we've put together these three tips on what to do if your partner is cheating on you. We hope that it will help you save your relationship or protect your marriage from divorce.
Talk to Your Partner
The best way to deal with the situation is to avoid being judgemental. Don't jump to conclusion quickly. Ask questions using "I" rather than "you". Instead of saying something like "You're always using the computer", say something like "I've noticed that we aren't spending as much time together. Can you help me understand why?"

Ask them to be Honest
Make sure your partner understands that you need to know the truth behind their behavioural patterns.

Consult a Professional Therapist
If your partner doesn't want to come clean, then consider consulting a professional therapist. Therapists are trained to deal with these situations and they can advise you on the best way to deal with what is happening and move on with your life.
How to use Hoverwatch to catch a cheating spouse
If you have tried all, and still couldn't find a solution or need to have evidence of guilt or innocence, you can rely on Hoverwatch. It's a modern spy application that allows you to track:
Phone calls
SMS
Location
Facebook messages
Step 1

Sign up to your free online account: enter email and a new password.

Step 2

Download and install the best phone tracker app from online account.

Step 3

Monitor all recorded data and recorded calls in your online account.
Thanks to this information, you will find out who your spouse is talking to. If you need to track the location, the built-in GPS tracker, which allows you to track phone location, will show you where and when your partner went to a particular place.
There are also other useful spy features that can be used to find out the truth about what is going on in your relationship. For example, if you're worried that your spouse may change his or her SIM card so they won't be caught, Hoverwatch can detect SIM card change. Moreover, if the target person has more than one device, you can track up to 5 devices in one account. To do this, just follow 3 simple steps:
Register for free
Install the app on the target device
Track the data in your online account
You can decide how to use the information and what you get, but such data will definitely help you to discover more. Of course, use the stealth mode, which is an option to stay hidden. It is not if it is discovered that you are tracking someone who is not guilty of anything. This can cause more problem in the relationship.
From the very beginning, you should be ready because some unpleasant truth will come declassified or be ready to admit that you were wrong. Also, you have to choose a strategy – spy hidden and keep the results also hidden, or share the information after you have learned about it. Sometimes, being in the dark is better than knowing everything.
Remember, applications are just a tool to learn more, but they are not a replacement for talking in real life and trusting a partner. You can combine the methods as you wish or use the technologies we provide, but if your aim is to save your relationship, see if you can trust and maybe talk. If none of this worked, then use detective features.